MAIN CATALOG
Unless stated otherwise, The price of Rolls includes the spool and box. However,
rolls can be sold unspooled and/or minus the box. Please inquire for pricing.
Test rolls are not spooled or boxed
-
Download orderform Here
Organettes
14-Note
16-Note
17-Note
end of a song so all the notes don't play at once when the strip is ejected.
20-Note
22-Note
25-Note
Player Accordions
Player Reed Organs
Street Organs
20 Note
14 Note
31+ Note
Piano Rolls
Misc
30 note Music Box Movement
Roll Supplies
Spools and test rolls are listed in the pages pertaining to each roll format.
Leader paper is available in 2' lenghts for many of the formats. Enquire for pricing.
End Flanges
1 3/4" O.D. X 1/4" thick. Fits most style American made organette spools
1/2" center hole - $1.00 each
3/8" center hole - $1.50 each
2 1/4" O.D. X 3/8" thick.
1/2" center hole - $2.00 each
3/8" center hole - $2.50 each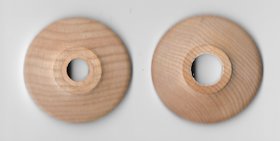 <
Ordering Information
Orders may be placed via e-mail -
orders@popmusicrolls.com
Postal Service, or phone
NOTICE!
Our ISP is having trouble sending/responding to certain servers (gmail, sbglobal, and outlook, that we know of).
If you send us an order or correspondence and do not receive a prompt reply, please resend to this alternative address:
bt.smmw@gmail.com
Please include shipping address and phone number on initial inquiries and orders. It speeds up the process plus
there rare instances when a responding email will get bounced back as undeliverable.

Minimum Shipping Charge for most roll orders (Media) - $4.00 plus .50 for each additional roll. Due to their extra size and weight,
Tournaphone rolls require $5.00 plus $1.00 for each additional.
Orders over $100.00 will require insurance. For spools, boxes and foreign orders, please wait to receive invoice before
making payment. PDF invoice with shipping included will be sent by email or PayPal Request. Orders outside the continental U.S.
must provide phone number.
All orders must be prepaid.
check or money order should be payable to: Pipes of Pan Music Rolls.
Payment also accepted through PayPal to the account of: orders@popmusicrolls.com
Tennessee residents should include 7.9% sales tax.
Regretfully, we are not as yet accepting creditcards
Due to the nature of the business, we do not keep a large inventory. We build up our stock by cutting
multiple copies when a roll is ordered. Please allow at least two weeks to fill orders for rolls not in stock.
Customer will be notified when back orders are shipped out.
Return to Top