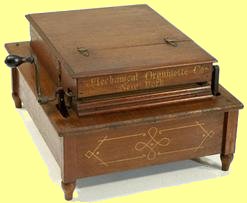 American Orguinette
McTammany Mechanical Orguinette
Melodista
Cotswold
Draper
Organita
This particular design of organette was manufactured in variations and under many
different names. There was even one made in Japan. I have mentioned the few of which I
am familiar. To be sure that your organ plays these strips, you may need to consult
Mr McElhone's book, or a rebuilder such as Harold Draper, or drop us a line with a photo.
Strips are not spooled, nor are they boxed.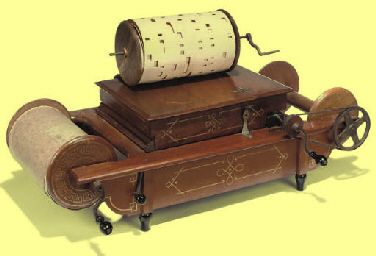 Custom Services
Some models are designed play these strips in
loop form. We can join the ends for you at $6.00 per strip. Some like the one picured,
are equipped with spools and can play multiple tunes. We can cut a single roll of any group of tunes
you prefer at $7.50 additional per tune.
Minimum Order - 5 tunes, any price range
However if you need one or two strips for testing I can select from many of the tunes I have in stock.
Christmas tunes - $20 each, $150.00 for the set
Away in a Manger
Deck the Halls
Hark, The Herald Angels Sing
Jingle Bells
Oh Christmas Tree
Oh Come, All Ye Faithful
Silent Night*
We Wish You a Merry Christmas*

Popular List
P.O.P. has the largest selection of tunes available since they were first produced.
Below are some of popular, better known, and new releases. For the complete list,
download catalog HERE.
or request a hard copy be sent.
Test strip - $6.00
PRICE A - $16.00
Length approximately 3' - 6'
ARKANSAS TRAVELLER
AULD LANG SYNE
BAA - BAA BLACK SHEEP*
BATTLE HYMN OF THE REPUBLIC
BLUE BELLS OF SCOTLAND
BONNIE DUNDEE
BONNIE PRINCE CHARLIE
BUFFALO GALS
COMING THROUGH THE RYE
DIXIE
GARY OWEN
HAIL TO THE CHIEF
HOME SWEET HOME
HUMPTY - DUMPTY*
JACK AND JILL*
LAST ROSE OF SUMMER
LITTLE BUTTER CUP
MEN OF HARLECH
OLD FOLKS AT HOME
OLD OAKEN BUCKET, THE
RALLY 'ROUND THE FLAG
SILVER THREADS AMONG THE GOLD
SWEET BYE AND BYE
SWEET HOUR OF PRAYER
TARA'S HARP
THE GIRL I LEFT BEHIND
THREE BLIND MICE*
TRAMP, TRAMP, TRAMP
WE SHALL MEET BEYOND THE RIVER
YANKEE DOODLE
PRICE B - $18.00
Length approximately 6' - 8'
ALL HAIL THE POWER OF JESUS NAME
ALL THE WAY MY SAVIOR LEADS
AMERICA (My Country 'tis of Thee)
ANNIE LAURIE
BELIEVE ME ALL THOSE ENDEARING ect.
BELL TRIO (FROM PINAFORE)
BRITISH GRENEDIERS
DEVIL'S DREAM
FISHER'S HORNPIPE
GOD SAVE THE QUEEN
GRANDFATHER'S CLOCK
HAIL COLUMBIA
HATTE POLKA
HE IS AN ENGLISHMAN
I AM THE CAPTAIN OF THE PINAFORE
I'M WAINTING FOR ESSIE DEAR
IRISH WASHERWOMAN
JENNY LIND POLKA
LIFE ON THE OCEAN WAVE
LISTEN TO THE MOCKING BIRD
LITTLE BROWN JUG
LOVE AMONG THE ROSES
MARYLAND MY MARYLAND
McLEOD'S REEL
MARCHING THROUGH GEORGIA
MERRY MERRY MAIDEN - Pinafore
MONEY MUSK
MY LOVE IS BUT A LASSIE
MY OLD CABIN HOME
NEARER MY GOD TO THEE
NELLY GREY
OLD DAN TUCKER
OLD ROSIN THE BEAU
POP GOES THE WEASEL
POLLY PUT THE KETTLE ON*
POLLY WOLLY DOODLE*
RED RIVER VALLEY*
RED WHITE AND BLUE
ROCK OF AGES
SAILORS HORNPIPE
SOLDIER'S JOY
ST. PATRICK'S DAY
STAR SPANGLED BANNER
SWEET VOILETS
SWITZER'S SONG OF HOME
TELL ME THE OLD STORY
TENTING TONIGHT
TURKEY IN THE STRAW*
WATCH ON THE RHINE
WEARING OF THE GREEN
WHAT A FRIEND WE HAVE IN JESUS
WITHIN A MILE OF EDINBORO
YE BANKS AND BRAES O' BONNIE DOON
WE SAIL THE OCEAN BLUE
WHITE COCKADE
YELLOW SUBMARINE*
PRICE C - approx. 8' to 10' - $20.00
Length approximately 8' - 10'
CLIMBING UP THE GOLDEN STAIRS
COME WHERE MY LOVE LIES DREAMING
FLOW GENTLY SWEET AFTON
GWINE BACK TO DIXIE
HAPPY BIRTHDAY MEDELY* - Featuring, "Hail, Hail, The Gang's All Here" and "He's a Jolly Good Fellow"
LA MARSEILLAISE
OH! DEM GOLDEN SLIPPERS
WHAT SHALL THE HARVEST BE?
WHEN YOU AND I WERE YOUNG, MAGGIE
WINE WOMAN AND SONG
PRICE D - $25.00
Length - 10'+
BLUE DANUBE WALTZ
BRIC-A-BRAC POLKA
BOCCACCIO MARCH
CINDERELLA
CLARINET POLKA*
DERRY HORNPIPE*
DUPPLER SHANZEN WALTZ
FANTINITZA MARCH
KEEP IN DE MIDDLE OB DE ROAD
LITTLE NIGHT MUSIC, A* - Mozart
RULE BRITANNIA
*new arrangment