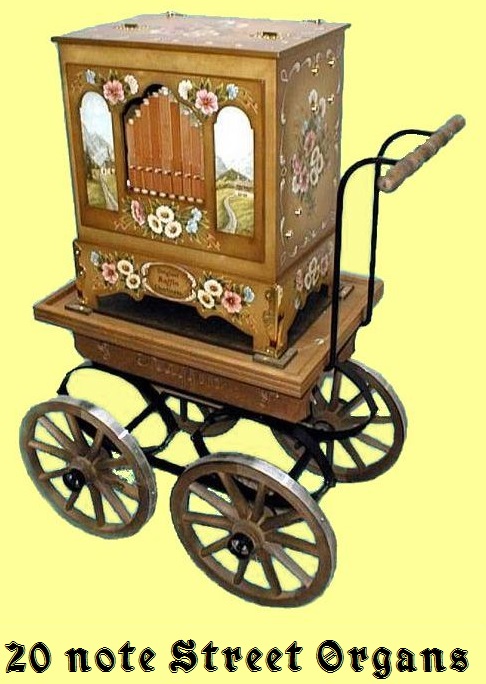 110 mm. wide
RAF - Raffin, Deleika, Strüber, Hoffle, Jäger & Brommer HOF - Hofbauer Please use the proper 3 letter prefix when ordering.
Price includes Spool and box. Some organs come with a universal spool and need only be wound on a 3/4" cardboard core.
Customers can deduct $3.00 from the roll price if this is preferred.
All rolls are cut on high quality 35lb dry wax paper, priced according to length and/or arrangement
Though the list is small, we will be adding titles periodically. Please check this site often for new listings.
We encourage suggestions for tunes and themes. We are also open to any arrangers out there who would like
to provide material. Email if interested

GENERAL LISTING 001 - $45.00 MIDI sample

FISHERS HORNPIPE
WHITE COCKADE
ARKANSAS TRAVELLER
CAMPTOWN HORNPIPE
HASTE TO THE WEDDING
DEVIL'S DREAM
SOLDIERS JOY
IRISH WASHERWOMAN
002 - $45.00
MIDI sample
BLUE DANUBE
WINE, WOMEN, AND SONG
ONE THOUSAND AND ONE NIGHTS - Strauss
003 - $40.00
MIDI sample
MONKEY ORGAN CLASSICS #1
TAKE ME OUT TO THE BALL GAME
SIDEWALKS OF NEW YORK
SWEET ROSIE O'GRADY
THE BAND PLAYED ON
004* - $42.00*
MIDI sample
BUTTONS AND BOWS
BUFFALO GALS
HOME ON THE RANGE
PONY BOY
DON'T FENCE ME IN
005* - $35.00*
MIDI sample
BIG ROCK CANDY MOUNTAINS
KEEP ON THE SUNNY SIDE
YOU ARE MY SUNSHINE
006 - $28.00
MIDI sample
CARNIVAL OF VENICE - variations
007 - $35.00
MIDI sample
AUPRES DE MA BLONDE
CHEVALIERS DE LA TABLE RONDE
CADET ROUSELLE
MARLBROUGH S'EN VA-T'-EN GUERRE
AU CLAIRE DE LA LUNE
008 - $25.00*
MIDI sample
BIRTHDAY ROLL
Hail, Hail, the Gang's All Here
Happy Birthday To You
For He's a Jolly Good Fellow
Happy Birthday To You - reprise
009 - $56.00
MIDI sample
EURO-BAND ORGAN CLASSICS #1
CIRCUS RENZ GALOP - arr. Hiddo van Os
OFFICER OF THE DAY MARCH - arr. Hiddo van Os
RADETSKY MARCH
010 $48.00
MIDI sample
WALDTEUFEL FEST
SKATER'S WALTZ
LES ROSES WALTZ
ESTUDIANTINA WALTZ
011 - $40.00
MIDI sample
OPERA FAVORITES
AIDA - Triumphal March
RIGOLETTO - La donna e mobile
TROVATORE - Miserere
TRAVIATA - Brindisi
TRAVIATA - Parigi O Cara
012 - $40.00
MIDI sample
HYMNS
ROCK OF AGES
HE LEADETH ME
IN THE SWEET BY AND BY
CHURCH IN THE VALLEY a.k.a. Church in the Wildwood
NEARER MY GOD TO THE
SWEET HOUR OF PRAYER
WHAT A FRIEND WE HAVE IN JESUS*
013 - $50.00
MIDI sample
SCOTTISH FAVORITES
SCOTLAND THE BRAVE*
BLUE BELLS OF SCOTLAND
BONNIE DUNDEE
ANNIE LAURIE
BROWN HAIRED MAIDEN*
HIGHLAND LADDIE*
LAST ROSE OF SUMMER
BONNIE DOON
AULD LANG SYNE
014 - $35.00
MIDI sample
MANHATTAN BEACH MARCH
LIBERTY BELL MARCH
015 - $40.00
MIDI sample
CHRISTMAS ROLL #1
SILENT NIGHT, HOLY NIGHT
O COME ALL YE FAITHFUL
WE THREE KINGS OF ORIENT ARE
WHAT CHILD IS THIS
HARK THE HAROLD ANGELS SING
016 - $38.00
MIDI sample
CAMPTOWN RACES*
OH, SUSANA
OLD DAN TUCKER
KINGDOM COMING
OH! DEM GOLDEN SLIPPERS
THE GIRL I LEFT BEHIND ME
DIXE
017 - $38.00
MIDI sample
MONKEY ORGAN CLASSICS #2
MEET ME IN ST. LOUIS
THE BOWERY
AFTER THE BALL
HOT TIME IN THE OLD TOWN
018 - $50.00
MIDI sample
HIGH CLASS POLKAS
BRIC-A-BRAC POLKA
JENNY LIND POLKA
LA CRACOVIANA POLKA
KING PIPPIN
SEASIDE BELLE POLKA
KUTSCHKE POLKA
POTPOURI POLKA
019 - $38.00
MIDI sample
PATRIOTIC
STAR SPANGLED BANNER
HAIL COLUMBIA
RED WHITE AND BLUE
WHEN JOHNNY COMES MARCHING HOME
YANKEE DOODLE
020 - $42.00*
MIDI sample
CHRISTMAS ROLL #2
GOOD KING WENCESSALAS
DECK THE HALLS
JOY TO THE WORLD
UP ON A HOUSETOP
WE WISH YOU A MERRY CHRISTMAS
021 - $35.00
MIDI sample
HALLELUJAH CHORUS -Handel
022 - $35.00
MIDI sample
WW1 SONGS
OVER THERE
IT'S A LONG WAY TO TIPPERARY
THERE'S A LONG LONG TRAIL
PACK UP YOUR TROUBLES
KEEP THE HOME FIRES BURNING
023 - $40.00
MIDI sample
OLD FOLKS AT HOME
THE OLD OAKEN BUCKET
HOME SWEET HOME
LISTEN TO THE MOCKINGBIRD
GRANDFATHER'S CLOCK
POP! GOES THE WEASLE
024 - $42.00
MIDI sample
SPOONING IN THE PARK
DAISY BELL (Bicycle Built for Two)
LET ME CALL YOU SWEETHEART
BY THE LIGHT OF THE SILVERY MOON
STROLING THROUGH THE PARK ONE DAY*
025 - $42.00*
MIDI sample
BALLAD OF DAVY CROCKETT
TURKEY IN THE STRAW
CLEMENTINE
ON TOP OF OLD SMOKEY
SHE'LL BE COMIN' 'ROUND THE MOUNTAIN
ROCKY TOP
026 - $45.00
MIDI sample
ORANGE BLOSSOM SPECIAL - arr. Hiddo van Os
YELLOW ROSE OF TEXAS
TENNESSEE WALTZ - arr. Hiddo van Os
RED RIVER VALLEY
027 - $50.00
MIDI sample
I'M LOOKING OVER A FOUR LEAF CLOVER
ROCK-A-BYE MY BABY - arr. Hiddo van Os
I'M JUST WILD ABOUT HARRY - arr. Hiddo van Os
TIGER RAG - arr. Hiddo van Os
028 - $55.00 - arr. Hiddo van Os
MIDI sample
CHRISTMAS ROLL #3
RUDOLPH THE RED NOSED REINDEER
LET IT SNOW
SLEIGH RIDE
JINGLE BELL ROCK
HOLLY JOLLY CHRISTMAS
SANTA CLAUS IS COMING TO TOWN
HAVE YOURSELF A MERRY LITTLE CHRISTMAS
029 - $42.00 - arr. Hiddo van Os
MIDI sample
12th STREET RAG
DIZZY FINGERS
THE TYPEWRITER
030 - $48.00 - arr. Hiddo van Os
MIDI sample
SOUND OF MUSIC
The Hills Are Alive
Do-Re-Me
Favorite Things
The Lonely Goatherd
Edelweiss
031 - $50.00
MIDI sample
MARY POPPINS
Spoonful of Sugar
Feed the Birds
Step In Time
Supercalifragilisticexpialidocious
The Life I Lead
Let's Go Fly a Kite
032 - $48.00 - arr. Hiddo van Os
MIDI sample
PHANTOM OF THE OPERA - Medley
033 - $55.00 - arr. Hiddo van Os
MIDI sample
EURO-BAND ORGAN CLASSICS #2
FROU-FROU
LUNA PARK
OLD COMRADES MARCH (Altekameraden)
LES MILLIONS D'ARLEQUIN
034 - $48.00 - arr. Hiddo van Os
MIDI sample
THIRD MAN THEME
THAT'S AMORE
FASCINATION WALTZ
QUE SERA SERA
035 - $50.00 - arr. Hiddo van Os
MIDI sample
DOWN TOWN
TOP OR THE WORLD - Carpenters
WHAT A WONDERFUL WORLD
SUPER TRROUPER
EYE LEVEL
036 - $28.00 - arr. Hiddo van Os
MIDI sample
WEDDING MARCH (Wagner)
037 - $55.00 - arr. Hiddo van Os
MIDI sample
De POSTKOETS (The Stagecoach)
LILI MARLEEN - MARS
KOENINGSBERG MARS
038 - $45.00 - arr. Hiddo van Os
MIDI sample
TEA FOR TWO
THE CONTINENTAL
CRAZY RHYTHM
039 - $50.00 - arr. Hiddo van Os
MIDI sample
DELILAH
UNA PALOMA BLANCA
MARINA
040 - $50.00 - arr. Hiddo van Os
MIDI sample
MEDELY OF HITS FROM THE 1920s
AVALON
SWEET GEORGIA BROWN
IF YOU KNEW SUSIE
YES SIR! THAT'S MY BABY
BABY FACE
WHISPERING
041 - $45.00
MIDI sample
LET'S ALL SING LIKE THE BIRDIES SING*
CUCKOO WALTZ - arr. Hiddo van Os
CHICKEN DANCE (Vogeltjes Dans) - arr. Hiddo van Os
042 - $50.00
DUTCH TREATS - arr. Hiddo van Os
GEFF MIJ MARR AMSTERDAM
TULIPS FROM AMSTERDAM
DAAR BIJ DIE MOLEN
KLINE CAFE ANN DE HAVEN

043 - $54.00
MIDI sample
COMEDIAN'S GALOP - arr. Hiddo van Os
MACKIE MESSER (Mack the Knife)- arr. Hiddo van Os
CALCUTTA - arr. Hiddo van Os
I'VE GOT A LOVELY BUNCH OF COCONUTS*
044 - $53.00 - arr. Hiddo van Os
MIDI sample
DROMLAND
ETIOLE DE NEIGE
MARTHA WALTZ
MUSETTE WALTZ
045 - $42.00
MIDI sample
SENTIMENTAL IRISH*
THOSE ENDEARING YOUNG CHARMS
WILD IRISH ROSE
A LITTLE BIT O' HEAVEN
WHEN IRISH EYES ARE SMILLING
046 - $45.00
MIDI sample
IRISH
KILLARNEY
ST. PATRICK'S DAY
THE MINSTREL BOY
RORY O'MOORE
WEARIN' OF THE GREEN
LANIGAN'S BALL
IRISH WASHERWOMAN
047 - $55.00
Arr. by Wallace Venable
MIDI sample
AMERICAN CIRCUS #1
THE BILLBOARD MARCH
MEN OF OHIO - TRIO
ROBINSON GRAND ENTRY
048 - $55.00
Arr. by Wallace Venable
MIDI sample
AMERICAN CIRCUS #2
FOLLIES BERGERE MARCH
THE BOOSTER
MELODY SHOP
049 - $55.00
Arr. Wallace Venable
MIDI sample
AMERICAN CIRCUS #3
NATIONAL EMBLEM MARCH
BOMBASTO
050 - $45.00
MIDI sample
British*
LILIBURLERO
MEN OF HARLECH
GARY OWEN
BRITISH GRENEDIERS
RULE BRITANNIA
GOD SAVE THE QUEEN
051 - $48.00*
MIDI sample
HMS PINAFORE
We Sail the Ocean Blue
Little Buttercup
I am the Captain
Merry Maiden
He is an Englishman
Bell Trio
When I was a Lad
Let's give three cheers
052 - $35.00*
MIDI sample
EASTER SPECIAL
HERE COMES PETER COTTONTAIL
EASTER PARADE
053 - $50.00*
Mexican#1
LA CUCARACHA
ALLA EN EL RANCHO GRANDE*
CEILO CELESTE
EL JARABE TAPATIO - Mexican Hat Dance*
056 - $52.00*
MIDI sample
FAVORITE POLKAS
CLARINET POLKA
PENNSYLVANIA POLKA
TOO FAT POLKA
057 - $48.00
MIDI sample
STEAM PUNK
WAITING FOR THE ROBERT E. LEE - Arr. Hiddo van Os
I'VE BEEN WORKING ON THE RAILROAD - Arr. Mikey Mills
STEAMBOAT BILL - Arr. Mikey Mills
CASEY JONES - Arr. Mikey Mills
058 - $50.00
MIDI sample
SHIRLEY TEMPLE
POLLY WOLLY DOODLE*
ON THE GOOD SHIP LOLLYPOP - Arr. Mikey Mills
ANIMAL CRACKERS IN MY SOUP - Arr. Mikey Mills
OLD KENT ROAD - Arr. Mikey Mills
059 - $48.00
MIDI sample
BEER!
THERE'S A TAVERN IN THE TOWN*
BEER BARREL POLKA
IN HEAVEN THERE IS NO BEER
060 - $45.00
MIDI sample
WILLIAM TELL OVERTURE*
061 - $48.00
MIDI sample
Ren-Fair #1*
MERRY MILKMAID
ALL IN A GREEN GARDEN
FROG GALLIARDE
SALTERELLO
HYDE PARK
CANTIGA 119
062 - $48.00
MIDI sample
Ren-Fair #2*
TWINKENHAM FERRY
KEMP JIG
SIR ROGER DeCORVERLEY
PLAYFORD'S BOATMAN
SCOTCH CAP
THE NEW RIGGED SHIP
063 - $48.00
MIDI sample
Renaissance Christnas *
IN DULCI JUBILO
BRANLE L'OFFICIAL
RIU, RIU, CHIU, VILLANCICO
JEANETTE, ISABELLA
ES IST EIN' ROS' ENTSPRUNGEN
064 - $55.00
MIDI sample
WWII SONGS #1
-arranged by Mikey Mills
Praise The Lord And Pass the Ammunition
Don't Sit Under the Apple Tree
Remember Pearl Harbor
Der Fuehrer's Face
5-I'll Be With You In Apple Blossom Time
065 - $48.00
PIRATES OF PENZANCE
I Am the Pirate King
Policeman's Song
Mable's Waltz Song
Hail Poetry
I Am the Very Model of a Modern Major General*
Weather Chorus - Pirate King Finale
066 - $46.00
CHILDHOOD c.1900
Playmate, Come Out and Play With Me - arr. by Mikey Mills
Mother Goose Medley*
School Days - arr. by Mikey Mills
Peek-A-Boo
067 - $50.00
RAGS
TISHOMINGO RAG
RAGTIME GOBLIN MAN
RED ROSE RAG
068 - $47.00
CIVIL WAR - Union
RALLY 'ROUND THE FLAG
AURA LEA* - (Love Me Tender)
MARCHING THROUGH GEORGIA
TENTING TONIGHT
TRAMP, TRAMP, TRAMP
JUST BEFORE THE BATTLE, MOTHER*
GLORY HALLELUJAH (John Brown's Body)
WHEN JOHNNY COMES MARCHING HOME
069 - $45.00
CIVIL WAR - Confederacy
BONNIE BLUE FLAG
KINGDOM COMING
LORENA
GOOBER PEAS
I'M A GOOD OL' REBEL
THE GIRL I LEFT BEHIND ME
DIXIE
070 - $50.00
ARMED FORCES
Anchors Aweigh
When the Caisssons Go Rolling Along - arr. M. Mills
Army Air Corps
Marine Corps Hymn
Victory polka
071 - $50.00
GOOD OLE' WALTZES*
Ciribiribin
Auf Widersein
Ramona
Over the Waves
072 - $55.00
LA NUIT PARISIENNE
THE LAST TIME I SAW PARIS*
POTPOURRI - Arr. Hiddo van Os
Valentine
Pigalle
Sur les ponts de paris
La Seine
Valentine repise
SOUS LE CIEL DE PARIS - Arr. Hiddo van Os
MADAMOISELLE DE PARIS - Arr. Hiddo van Os
J'ATTENDRAI - Arr. Hiddo van Os
New arrangments by Mikey Mills are avaiable at:
Mechanical Music Rolls
* Arranged by Brian Thornton
SPOOLS - $12.00
BOXES - $3.50 each
Guarantee -
Should the roll be physically defective in any way, it must be returned within one week of delivery for refund
or exchange. This does not cover the arrangement, style and tempo, of a particular selection Sample MIDI files
are available on request prior to purchase.
Care of Music Rolls
For cost, environmental, and health concerns, we do not use polypropylene(plastic)paper in the
production of our rolls. The 35lb dry wax paper has proven satisfactory and will remain durable as long
as a couple of simple steps are taken:
Store in a dry climate controled space
Avoid using rubberbands for long periods of time
Rubber bands are fine for short term, when the organ is out and in use, provided that the
band is tight enough just to keep the roll from unraveling, does not dig into the paper. A rubber band that is too tight
will warp and leave a deep impression in several layers of the roll, not to mention that rubber band will
deteriorate and become embedded onto the paper.