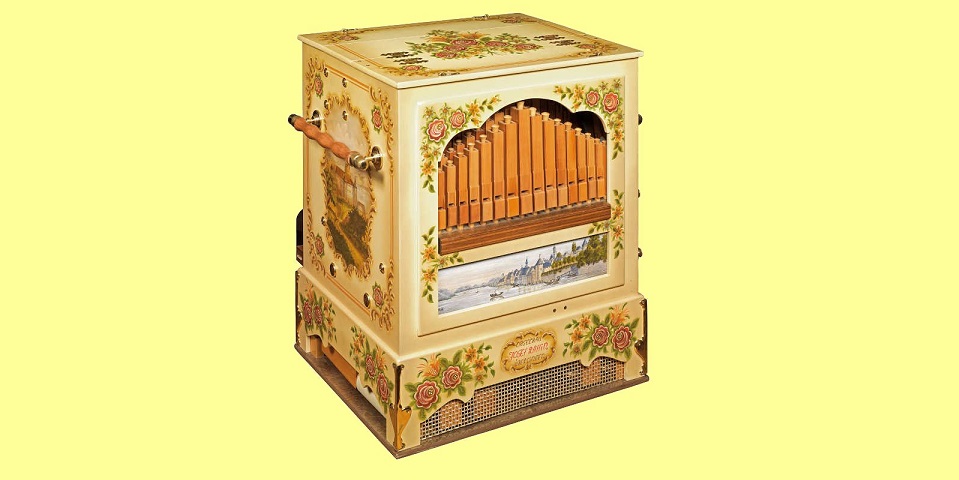 31 note Raffin - 140mm. wide
Price includes Spool and box. All rolls are cut on high quality 35lb dry wax paper, priced according to length and/or arrangement.
We will be continually adding selections to our catalog over the next few weeks, so check back often
We encourage suggestions for tunes and themes. We are also open to any arrangers out there who would like
to provide material. Email if interested
GENERAL LISTING
RFN001 - $55.00
STREET ORGAN CLASSICS #1 - arr. M. Mills
Hot Time In The Old Town
Take Me Out To The Ball Game
Meet Me In St. Louis
The Bowery
RFN002 - $45.00
RAGTIME
Tishomingo Blues
Red Rose Rag
Another Rag
RFN003 - $50.00
PATRIOTIC
America
Red White and Blue
3-God Bless America
Star Spangled Banner
Yankee Doodle
RFN004 - $55.00
STREET ORGAN CLASSICS #2
Sidewalks of New York 2 - arr. M. Mills
Daisy Bell 2 - arr. M. Mills
Good Old Summertime 2 - arr. M. Mills
RFN005 - $55.00
STREET ORGAN CLASSICS #3 - arr. M. Mills
Let Me Call You Sweetheart
The Band Played On
After the Ball
RFN006 - $45.00
HORNPIPES and REELS
Fishers Hornpipe
White Cockade
Arkansas Traveler (antebellum version)
Haste to the Wedding
Devil's Dream
Soldiers Joy
Irish Washerwoman
Sailors Hornpipe
RFN008 - $45.00
BROTHER WHERE ART THOU*
Big Rock Candy Mountains
You Are My Sunshine
Keep On the Sunny Side
RFN009 - $50.00
STEAM-PUNK
Waiting For the Robert E. Lee - arr. H. V. Os
Ive Been Workin' On the Railroad - arr. M. Mills
Steamboat Bill - arr. M. Mills
Casey Jones - arr. M. Mills
RFN010 - $50.00
SHIRLEY TEMPLE
Polly Wolly Doodle - arr. M. Mills-Thornton
Good Ship Lollypop - arr. M. Mills
Animal Crackers In My Soup - arr. M. Mills
Old Kent Road - arr. M. Mills
RFN011 - $50.00
OLD CHILDHOOD TUNES
- arr. M. Mills
Playmate, Come Out and Play With Me
Pony Boy
School Days
Peek-A-Boo
RFN012 - $50.00
FAIR COLLEENS
Little Annie Rooney - arr. M. Mills
Peggy O'Neal
Sweet Rosie O'Grady
Wild Irish Rose*
RFN013 - $50.00
ANIMAL FAIR
I Went to the Animal Fair* (intro)
Teddy Bear's Picnic - arr. M. Mills
Aba Daba Honeymoon
Whistler and His Dog
"Flipper" Theme
RFN014 - $50.00
ARMED FORCES
There's Something About a Soldier
When the Caisssons Go Rolling Along - arr. M. Mills
Army Air Corps
Marine Corps Hymn
RFN015 - $50.00
PARADE!
I Love a Parade
Parade of the Wooden Soldiers
Colonel Bogey March
Under the Double Eagle
RFN016 - $50.00
AT THE CARNIVAL
The Merry-Go-Round Broke Down
Over the Waves
The Man On The Flying Trapeze
Ben Hur Chariot Race
RFN017 - $50.00
HITS OF THE 20s #1
All I Do Is Dream Of You
Barney Google
Jeepers Creepers
Tip-toe Through the Tulips
RFN018 - $50.00
SPOONIN' TUNES
Moonlight Bay
Cruising Down the River
By the Light of the Silvery Moon
Meet Me Tonight in Dreamland
RFN019 - $45.00
STRAUSS WALTZES
Blue Danube
Artist's Life
1001 Nights
RFN020 - $50.00
POLKA #1
Beer Barrel Polka
Clarinet Polka
Strip Polka
Too Fat Polka
RFN021 - $50.00
POLKA #2
Strip Polka
Thunder and Lightning Polka
Hosia Siusia Polka
Victory Polka
RFN022 - $50.00
SOUSA MARCHES #1
El Capitan
Washington Post
Stars and Strips Forever
RFN023 - $50.00
ORGAN SWING
Elmer's Tune
Music, Music, Music(Put Aonther Nickle In)
Organ Grinder Swing
Lavender Blue
RFN024 - $50.00
LATIN FLAVOR
Tico-Tico Samba
love song of Renaldo
Carioca Tango
Rum and Coca-Cola
RFN025 - $50.00
CHRISTMAS #1
Rudolph
Let It Snow
Sleighride
Jingle Bell Rock
Holly Jolly Christmas
Santa Claus is Coming to Town
Have Yoursef A Merry Little Christmas
* Arranged by Brian Thornton
SPOOLS - $12.00
BOXES - $3.00 each
Guarantee -
Should the roll be physically defective in any way, it must be returned within one week of delivery for refund
or exchange. This does not cover the arrangement, style and tempo, of a particular selection Sample MIDI files
are available on request prior to purchase.
Care of Music Rolls
For cost, environmental, and health concerns, we do not use polypropylene(plastic)paper in the
production of our rolls. The 35lb dry wax paper has proven satisfactory and will remain durable as long
as a couple of simple steps are taken:
Store in a dry climate controlled space
Avoid using rubber bands for long periods of time
Rubber bands are fine for short term, when the organ is out and in use, provided that the
band is tight enough just to keep the roll from unraveling, does not dig into the paper. A rubber band that is too tight
will warp and leave a deep impression in several layers of the roll, not to mention that rubber band will
deteriorate and become embedded onto the paper.