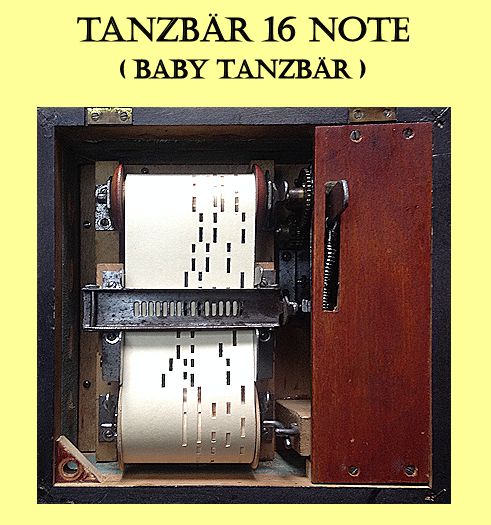 $35.00 each, include spool and box. 3 roll minimum order
Spools $6.00 each
Boxes $3.00 each
TZB-014 - Blue Danube
TZB-021 - Wiener Blut Waltzer
TZB-023 - Waves of the Danube
TZB-025 - Over the Waves
TZB-041 - Skater's Waltz, The
TZB-045 - Barrina Verde
TZB-050 - Just One Girl
TZB-128 - Parade of the Wooden Soldiers
TZB-318 - AH-HA!
TZB-332 - Oh How I Miss You Tonight
TZB-336 - O Sole Mio
TZB-345 - Valencia
TZB-357 - Show me the Way to Go Home
TZB-368 - Ciribiribin
TZB-371 - Moonlight & Roses
TZB-400 - My Blue Heaven
TZB-401 - Ramona
TZB-402 - Among My Souvenirs
TZB-407 - Auf Wiedersehen
TZB-421 - Sunny Boy
TZB-419 - Ich Traumte Die Rhein In Der Dammorstunde
TZB-423 - Heigh-Ho, Ev'rybody Heigh-Ho!
TZB-421 - Sonny Boy
TZB-424 - There's a Rainbow 'round My Shoulder
TZB-451 - Woman in the Shoe, The
TZB-473 - Anchors Away
TZB-477 - Down the River of Golden Dreams
TZB-483 - Something to Remember You By
TZB-544 - Estudiantina Waltz
TZB-607 - American Patrol
TZB-612 - Old Folks at Home
TZB-848 - Catilina
TZB-854 - El Burrito
TZB-859 - Para Clase
TZB-860 - Whispering
TZB-867 - I Can't Resist it
TZB-870 - Mi Alhaja
TZB-877 - Pasion Milonguera
The original roll numbers of the following selections are unknown. Any help
recovering these would be greatly appreciated.
TZB-X01 - A Portugueza Marcha
TZB-X02 - Auf Wiedersein
TZB-X03 - Berceuse
TZB-X04 - Christmas Medley
TZB-X05 - Ciribiribin
TZB-X06 - I Kiss Your Hand Madame
TZB-X07 - I'll See You in My Dreams
TZB-X08 - In a Little Spanish Town
TZB-X09 - I Miss My Swiss
TZB-X10 - Listen to the Mocking Bird
TZB-X11 - Oh Katharina
TZB-X12 - See-Saw Waltz
TZB-X12 - Shimmy (Mon Homme)
We have a few mystery rolls here that we would like identified.
Does anyone know the titles? Click to hear midi file.
MR-A
MR-B
MR-C
MR-D
MR-E
MR-F
MR-G
MR-H
MR-J
MR-K
IMPORTANT!
Please be sure your instrument has been restored and is in proper working order before attemping
to play music. Rolls damaged by tracker fingers that are not properly adjusted cannot be returned.
Since the card stock that is used is rather stiff it will tend to be springy for a while.
Keep rolls tightly banded for at least two months until the material conforms to the spool.


Have any rolls you would like to see copied?
We are interested in obtaining or borrowing restorable rolls for re-cutting.
Please email us for more information.