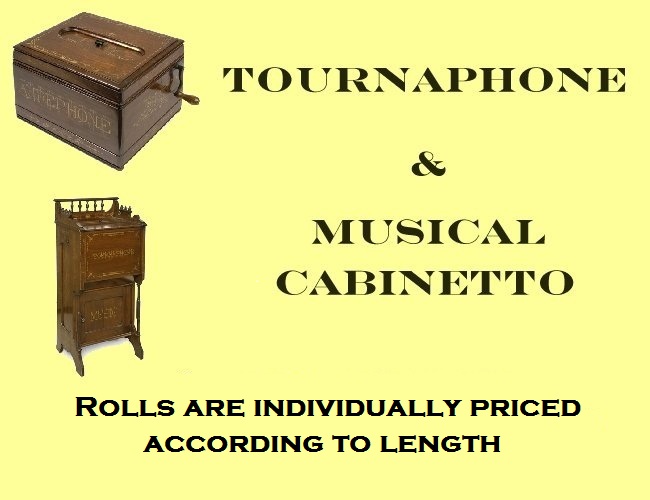 Notice - All Tournaphone rolls are temporarily out of stock. We will be cutting them again in early
summer(2018) with a revised catalog and price list.
Odering Information
Three roll minimum.
Orders may be placed via e-mail (
orders@popmusicrolls.com
),
Postal Service, or phone
Please include shipping address on initial inquiries and orders
Minimum Shipping Charge for roll orders (Media) - $5.00 plus $1.00 for each additional roll
Orders over $100.00 will require insurance. For spools, boxes and foreign orders, please wait to receive invoice before
making payment.
PDF invoice with shipping included will be sent by email or PayPal Request
All orders must be prepaid.
check or money order should be payable to: Pipes of Pan Music Rolls.
Payment also accepted through PayPal to the account of: orders@popmusicrolls.com
Tennessee residents should include 7.9% sales tax.
Regretfully, we are not as yet accepting creditcards
Due to the nature of the business, we do not keep a large inventory. We build up our stock by cutting
multiple copies when a roll is ordered. Please allow at least two weeks to fill orders for rolls not in stock.
Customer will be notified when back orders are shipped out.
When ordering, specify for which intrument you are ordering.
Large drive wheel for Tournaphone, no drive wheel for Cabinetto.
If your instrument was sold or made in Great Britain, the style of
spool will be reversed; American Tournaphone spool fits a Brittish Cabinetto
and visa-versa.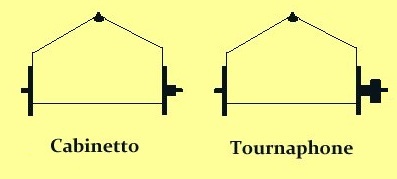 3 roll minimum order
Explanation of numbering system
001-599. Verbatim copies of original rolls w/issued number.
600-699. New compilations of original tunes.
700-799. Mixture of original and new arrangments
800-899. New arrangements
Spools - $25.00 each
Leader paper
aprox. 2' length - free with purchase
TRN-010.....$90.00
PIC-NIC POLKA
LA BELLE BOHEMIENNE POLKA
WRIGHT COMPLIMENTARY POLKA
TRN-070.....$100.00
SHALL WE MEET BEYOND THE RIVER
CORONATION
COME YE DISCONSOLATE
I WANT TO BE AN ANGEL
WHERE IS MY BOY TONIGHT
DRAW ME NEARER
BEULAH LAND
TRN-082......$79.00
WINE, WOMEN, AND SONG
TRN-450......$85.00
CHORUS JIG
IRISH WASHERWOMAN
MONEY MUSK
SOLDIER'S JOY
WRECKER'S DAUGHTER
WHITE COCKADE
TRN-600 $80.00
SWEET BYE AND BYE
ROCK OF AGES
NEARER MY GOD TO THEE
SWEET HOUR OF PRAYER
TRN-601 $80.00
OLD FOLKS AT HOME
LISTEN TO THE MOCKING BIRD
HOME SWEET HOME
GRANDFATHER'S CLOCK
TRN-602 $85.00
Songs of the Civil War - Union
RALLY 'ROUND THE FLAG
MARCHING THROUGH GEORGIA
TRAMP, TRAMP, TRAMP
BATTLE HYMN OF THE REPUBLIC
TRN-603 $75.00
HAIL COLUMBIA
AMERICA
YANKEE DOODLE
STAR SPANGLED BANNER
TRN-604 $75.00
ARKANSAS TRAVELER
GIRL I LEFT BEHIND ME
OH SUSANA
DIXIE
TRN-605 $75.00
ANNIE LAURIE
COMIN' THRO' THE RYE
LAST ROSE OF SUMMER
AULD LANG SYNE
TRN-606 $75.00
St Patrick's Day
Irish Washerwoman
Kilarney
The Minstrel Boy
TRN-607 $80.00
Fisher's Hornpipe
Devil's Dream
Larry O'Gaff
Speed the Plough
Hull's Victory
TRN-701 $65.00
BEER BARREL POLKA
THERE'S A TAVERN IN THE TOWN*
TRN-702 $80.00
Men of Harlech
Rule Britannia
British Grenadiers*
God Save the Queen
TRN-803 $80.00
BIG ROCK CANDY MOUNTAIN
YOU ARE MY SUNSHINE
KEEP ON THE SUNNY SIDE
TRN-804.....$80.00
BALLAD OF DAVEY CROCKET
MOUNTAIN MEDLEY
Clementine
On Top of Old Smokey
She'll Be Comin' Around the Mountain
ROCKY TOP
TRN-805 $75.00
JINGLE BELLS
UP ON A HOUSETOP
WE WISH YOU A MERRY CHRISTMAS